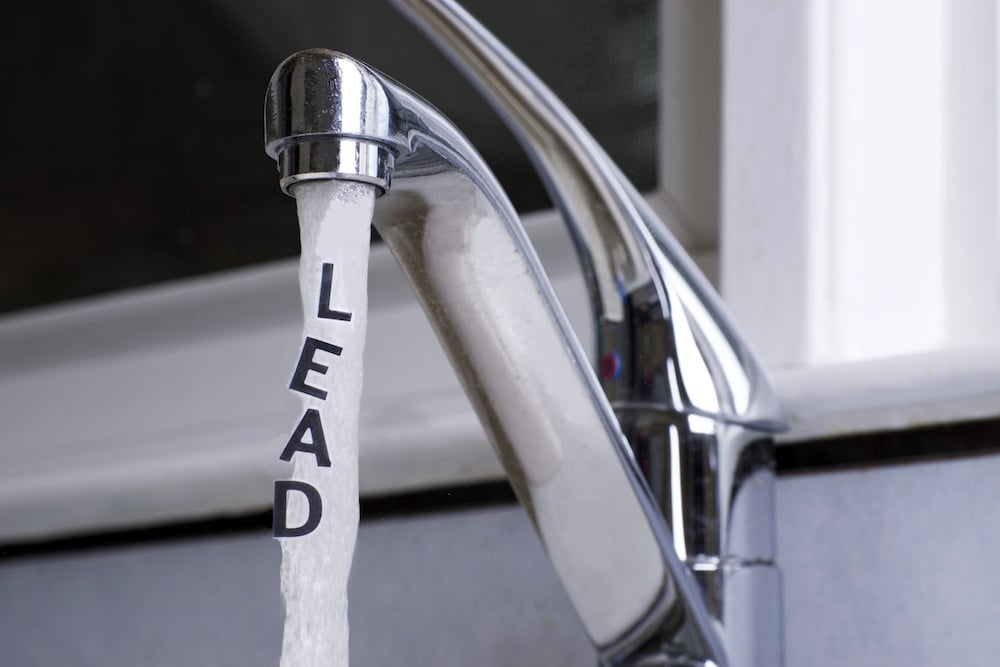 Lead plumbing fixtures have been tied to health issues for decades. Recently, a new plumbing code signed into law in California will mandate strict limits on the manufacturing and sale of plumbing fixtures that leach lead. Here's what you need to know and what to do about lead plumbing fixtures in your home.
New California Laws Against Lead Plumbing
California Governor Gavin Newsom has signed into law AB 100, legislation that establishes new lead leaching standards for the state. Effective January 1, 2023, the law prohibits the manufacturing and sale in California of any plumbing fixture, fitting, or faucet that does not meet NSF/ANSI/CAN 61-2020 regulations. The law also requires that product packaging and labeling of any device that's intended to convey or dispense water for human consumption must indicate compliance with the "lead-free" standard.
"AB 100 will help reduce the risk of lead exposure in the built environment through certified, 'lead-free' endpoint devices," said Robyn Fischer, director of government relations for the Ontario, CA-based International Association of Plumbing and Mechanical Officials (IAPMO). "This new law will complement the larger-scale efforts underway to help protect Californian's water infrastructure and underscores the state's commitment to upholding public health and safety."
What is Lead Piping?
Lead is a heavy metal that is extracted from ore while mining for more valuable materials like silver, gold, and zinc. It is readily available, easily malleable, and resistant to corrosion. It won't break or crack if you press it, hammer it, or bend it. In addition, it is easy to melt at low temperatures.
These properties made it extremely useful throughout history for producing all sorts of products, including the lead pipe. Lead piping has been used for thousands of years to distribute water from one place to another, and lead piping in houses was once very common. But, that doesn't mean you want it in your home.
What are the Health Effects of Lead?
The Environmental Protection Agency (EPA), using data from the Centers for Disease Control (CDC), has highlighted the dangers of lead. "Lead can affect almost every organ and system in your body," the report reads. It goes on to list the following potential impacts of lead intake among at-risk groups.
Lead Poisoning in Children
Even low levels of lead in the blood of children can result in:
Behavior and learning problems
Lower IQ and Hyperactivity
Slowed growth
Hearing Problems
Anemia
In rare cases, ingestion of lead can cause seizures, coma, and even death.
Lead Poisoning in Pregnant Women
Lead can accumulate in our bones over time. During pregnancy, it is released from the mother's bones, exposing the fetus or the breastfeeding infant to lead, potentially leading to:
Miscarriage
Premature birth
Damaged brain, kidneys, and nervous system
Future learning or behavioral problems
Lead Poisoning in Other Adults
Lead is also harmful to other adults. Adults exposed to lead can suffer from:
Cardiovascular effects such as increased blood pressure and hypertension
Decreased kidney function
Reproductive problems (in both men and women)
The most infamous lead water crisis occurred in Flint, Michigan in 2014 and lasted until 2019. In that city's case, lead from improperly treated water leached out from aging pipes into thousands of homes causing illness and death throughout the area. The symptoms of lead poisoning were well documented and other states, including California, have taken notice.
What to Do if You Have Lead Pipes in Your Home
If your California home was built before 1970, there's a chance it has lead pipes. Over time, lead in water from these pipes can result in the aforementioned harmful conditions. While the new law will stop the manufacturing and sale in California of any plumbing fixture, fitting, or faucet that does not meet lead standards, what does this mean for homes already outfitted with lead piping?
For now, it's the responsibility of the homeowner to replace lead pipes within the boundary of their property. While it is not a legal requirement to replace them, over time lead from these old-style pipes can get into your drinking water and potentially damage your health. But how do you know if your home has lead water pipes?
When Were Lead Pipes Banned? What Do Lead Pipes Look Like?
In 1969, it became illegal to use lead pipes in water supplies. If your house is older than that, you'll want to check your pipes to see if they're made of lead.
So what do lead pipes look like? Their color is generally a dull gray, with a slightly blue tint. It's similar in color to tarnished lead. When scratched on the surface, it will show a shiny, silver color. But it turns back to a dull gray after being exposed to oxygen. To check if you have lead pipes, you will need to first find where the mains water pipe enters your property (it's usually under your kitchen sink, in the downstairs toilet, or under the stairs). To determine if they're made of lead, consider the following:
If you see that the service line is a dark matte gray color, that usually means that it is a lead service line. If it's a brownish, copper color, that means it's a copper supply line.
Put a magnet to it. If it sticks, it's steel. If it's lead, it will not (note that it also would not stick to copper).
Scrape the pipe gently with a coin or screwdriver. If you see a shiny, silver-colored metal underneath, you'll know it's a lead pipe. Be aware that scratching lead pipes can produce some small amounts of lead dust which can be harmful if breathed in, so wear a face mask when carrying out this task.
Your best bet is to contact a licensed plumber for an inspection. If it's determined that you have lead pipes, for the health of you and your family, it's best to have them replaced.
Replacing Lead Pipes with Express Sewer & Drain
Replacing lead pipes may sound like a hassle, but the experts at Express Sewer & Drain have got you covered. There are numerous options that our experts can review with you. These include:
Copper Pipes. A safe, long-term metal solution. It can be expensive but has a long life span.
PVC Pipes. A more modern solution. PVC piping is flexible and easy to work with, so it's generally less expensive, but it's brittle and can leak if not properly maintained.
PEX Pipes. A solution used only for distributing water. PEX piping is highly flexible and less expensive than alternatives.
You can read more about how much it costs to replace pipes in your home here. Or, if you're ready to talk about replacing lead pipes in your home now, contact the experts at Express Sewer & Drain today!
Topics: Pipe Leaks and Repair, Home Plumbing