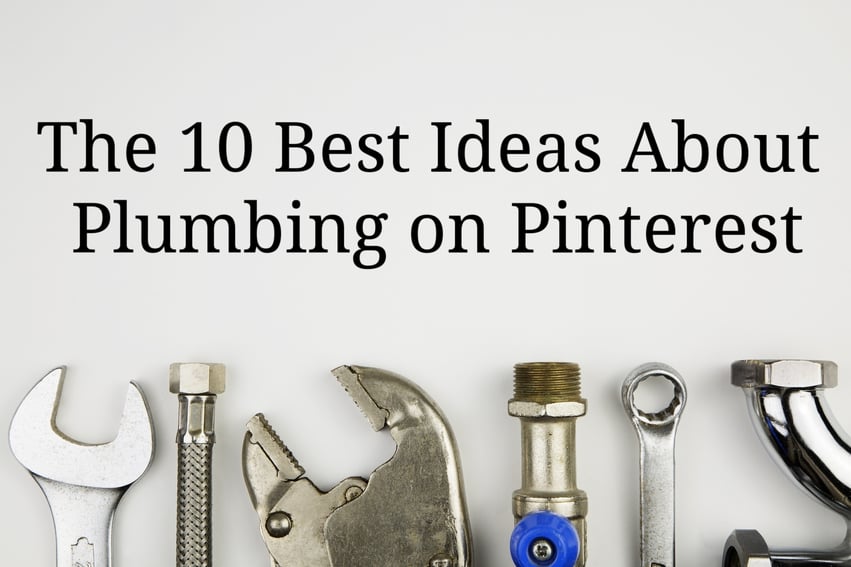 Understanding how the plumbing system of your home or business works can help you troubleshoot problems – often before it becomes a big issue. A small leak is one thing, but a leak that pours out hundreds of gallons of water into your home can be disastrous and costly.
A picture is worth a thousand words and plumbing tips on Pinterest offer valuable information that will help you understand and troubleshoot your plumbing system. Preventative and proper maintenance is the key to the longevity of any home plumbing system. Knowing what you can do yourself and knowing when to call a professional is sound advice when tackling plumbing projects.
#1: Hot and Cold Water Supply Lines
Understanding your plumbing system will help you troubleshoot problems and this diagram from Plumbing on Pinterest gives you a visual of a home's system. It details incoming hot and cold water to sinks, baths, and appliances, and outgoing wastewater and is a good place to start if you are new to plumbing systems.
#2: Common Plumbing Problems Explained
Troubleshooting your plumbing is easy if you know what you are looking for. This quick list on Plumbing on Pinterest can help you diagnose your plumbing problems. Leaks and clogs are the most common plumbing and are covered in this list.
#3: Learning Plumbing Terminology
The parts of your plumbing system have funny names. You might find yourself sweating the pipe, dealing with snakes or replacing a ballcock. Knowing the names of these parts can be helpful when fixing your plumbing. Asking for a whatchamacallit at the hardware store can get confusing.
#4: A Useful Toilet Diagram
A leaky toilet can be costly and many homeowners have the skill necessary to make basic repairs. This article from Plumbing on Pinterest explains how your toilet works and diagrams its individual parts.
#5: Fixing a Leaky Faucet
Leaky faucets are another water waster. An intrepid weekend plumber can repair or replace a kitchen or bathroom faucet. This diagram from Plumbing on Pinterest lists the parts of a common kitchen faucet.
#6: Plumbing and Water Usage
Whether you are buying a new home or looking at upgrades to your current home this Pinterest on Plumbing article explains where money is lost with faulty plumbing. In areas of Sacramento with high water costs, a small leak can add hundreds of dollars a year to your water costs.
#7: Understanding Tub and Shower Leaks
More complicated and usually harder to access than sink, and lavatory faucets, this diagram of a tub and shower faucet shows how they are assembled. Fittings and Pipes for tub and shower faucets are often behind wall panels and leaks may be hard to detect because they are unseen. Evidence of a tub or shower leak may show up in walls or floors before you know you have a leak.
#8: A Bathroom Layout Guide
If you are considering renovating or adding a new bathroom, the bathroom layout guide will help you determine how to size and rough in a bath for your home or business. This is advanced plumbing and will require carpentry skills, as well plumbing skills but many handy homeowners have the skills to take on a job of this size. Even if you lack the skills, knowing the process will help you understand what the professionals are doing when they come to your home.
#9: How to Prevent Plumbing Emergencies
An ounce of prevention is worth a pound of cure and maintaining your plumbing is the best measure you can take to keep water running freely. This list from Pinterest on Plumbing will help you inspect your plumbing system and decide if you have a problem that you can handle or if you need to call in a professional.
#10: The Evolution of Plumbing
Around since 2,500 B.C, plumbing is nothing new to civilization. It has advanced considerably since that time and modern trenchless sewer line replacement, PEX pipe, and other innovations have made modern plumbing easier to install in new and existing homes and businesses.
Take the Plunge
Weekend plumbers can handle some plumbing projects while others will require the service of a professional, such as the team at Express Sewer & Drain. Small projects like replacing leaky faucets or clearing minor clogs are easy for homeowners to do on their own.
Major projects that include replacing or repairing sewer lines or replacing your old copper water lines with PEX pipe are better left to the professionals, who have the tools and knowledge to fix your plumbing problems. If you have, questions about your plumbing contact us at Express Sewer & Drain for expert advice.
Topics: Home Plumbing, DIY