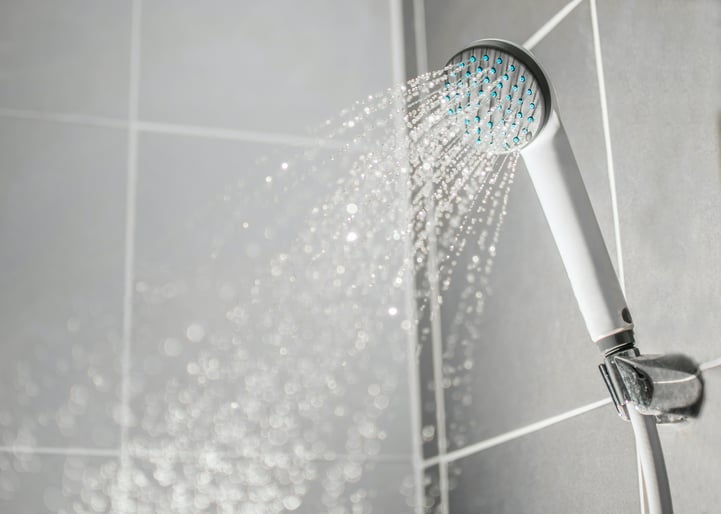 Shower heads are one of those appliances that people tend to overlook and approach as an afterthought.
But when it comes time to complete a home improvement project in your bathroom, the shower often comes up as a good place to start the upgrade. After all, with so many shower head types to choose from, the process of finding the best type to fit your preferences can be tricky.
That's why it's important to take the time to make the right decision.
Why Choosing the Right Shower Head Matters
Those standard spigots you saw decades ago seem like a relic of the past when you look at all the different options available today. But before you start shopping, you need to understand the impact shower head types might have on your lifestyle and your wallet.
First of all, you want to make sure you get the shower experience you want. For example, you might prefer a handheld head because you want a convenient option for washing your children, bathing your dogs, and cleaning the tub.
Or perhaps you want a head that saves you big on your water bill. For those who like the finer things in life, massage and other spray patterns are available with certain types of shower heads.
Another aspect most people tend to overlook is how your shower head affects your health. An unfortunate truth often ignored is the fact that shower heads are a perfect environment for pathogenic bacteria and harmful microbes.
Of course, risk of infection is small to nonexistent, but frequent exposure to contaminated water cascading onto your face and body is something you can easily avoid. Make sure you plan for how you will clean your shower head.
Additionally, you also need to consider the cost. Think beyond the price tag of the shower head itself — look at the impact it will have on your water bill. Some outdated shower heads drain your wallet (pun intended) by using up to 10 gallons of water per minute when it's fully opened. Fortunately, newer shower heads can save you big by using about two or three gallons per minute, thanks to their design.
Ultimately, the total cost of ownership of your shower head comes down to the levels of water pressure it uses.
Low Pressure Shower Heads vs. High Pressure Shower Heads: The Pros and Cons
This topic is likely your primary concern when you're shopping for the best shower head for your home. Ultimately, your decision comes down to what you want to prioritize — the overall shower experience or your water bill.
Pros and Cons of Low Pressure Shower Heads
A 2016 study found that showers are the second largest source of indoor water use, accounting for about 19 percent of total use per capita per day. It's no wonder that people turn to low flow shower heads to cut back on their water bills.
The major advantage of using lower pressure shower heads is obvious: Since the head allows smaller amounts of water to flow through it as compared to other heads, the restricted flow ultimately reduces your water use.
The pros are pretty clear. Low pressure shower heads help with the following:
Managing water waste and cutting back on your total water bill.
Reducing your electric bill by using less electricity to warm less water being used.
Decreasing the amount of emissions by saving on energy use.
There are some downsides as well. These include the following:
You will experience a time lag, meaning when you adjust the temperature, it takes longer for that change to come through the head.
Your water will be cooler because low flow heads combine water droplets flowing out with the air, making the water cool quickly, as compared to traditional shower heads.
Simply put, a low pressure shower head can cut costs and provide an environmental benefit, but the experience can be frustrating, especially if you prefer consistent, strong water flows after dealing with poor water pressure in the past.
Pros and Cons of High Pressure Shower Heads
These types of shower heads are useful for increasing water pressure if you find your current head ineffective. Many people prefer a shower experience that delivers high levels of water pressure, especially if they opt for high end heads that include a massage setting.
The advantages of using high pressure shower heads are as follows:
You get a better experience if you prefer a strong water flow.
You're able to improve temperature control, reducing the lag between turning the knob and actually feeling the water get hotter or colder.
You typically get more options for spray patterns, like a gentle mist, powerful stream, or a pulsating massage.
However, the cons of using these heads mostly boil down to cost.
You might see an increase in your water bill as you use more water.
In turn, your electric bill can increase too as you use more energy to heat your water.
Now that you know the pros and cons of using different levels of water pressure with your shower heads, you're ready to explore your options.
The Types of Low and High Pressure Shower Heads
Picking the right shower head with the best water pressure comes down to your personal preference. Here are the most common types of shower heads.
Handheld Shower Head
These kinds are attached to the shower elbow through a hose. The head itself can detach from the holder, so the user can extend it off of the wall. Handheld shower heads are especially helpful for cleaning your shower enclosure and bathing your kids and pets.
Some of these come with a lot of extra features, like various spray patterns and massage jets. And many hand held heads can be mounted to sliding bars, making it easy to adjust it to various heights.
Dual Shower Head
Can't decide between a hand held option or a fixed type? Want the best of both worlds? The dual shower head is your perfect choice.
Typically, these systems offer both a hand held head and a fixed head that is stationary. Dual shower heads include a diverter valve to effectively control water flow. A two way diverter valve will switch flow between the two heads, and a three way diverter valve allows you to choose which individual head to use at one time or to use both heads simultaneously.
Single Spray Shower Head
This type is self-explanatory. It's a fixed shower head that provides one spray setting, often referred to as a full body spray.
A single spray shower head is the best option for you if you want simplicity.
LED Shower Head
These share the same functionality as the rest of these shower heads. The only difference is that they use LED lights to color the water, which can be relaxing and uplight your mood.
Most LED shower heads come with a variety of color options, but some are single color or offer a random color sequence. Another cool feature — some models use water temperature to adjust the color of the lights.
Rain Shower Head
With this option, you get wide coverage, thanks to the extended width of the head itself. Most rain shower heads are at least six inches wide, making you feel like you're underneath a rain cloud.
These are mounted on the wall, but some can be installed in the ceiling of the shower enclosure. The water flow is evenly distributed, resulting in a lower pressure with a wide coverage. These are best if you have plenty of water pressure in your home so the head can effectively distribute flow evenly.
When you know your preference for water pressure, finding the best type of shower head is simple. Keep in mind that shower head installation is often simple, but you need to make sure that it's done correctly.
If your recent DIY home projects have not gone well, it might be worth hiring a professional. This way, you avoid common installation mistakes, which can lead to costly repairs and fixes.
Topics: Home Plumbing