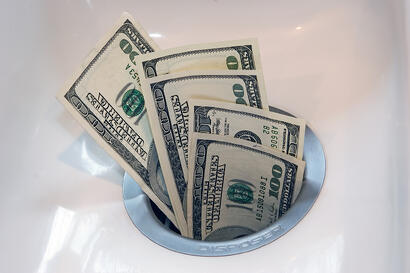 Underground pipe damage, and the repairs that ensue, are probably not something you would typically plan for. Whether damage is due to aging, corrosion, root intrusion or soil activity, restoring home/property water lines isn't something people typically relate to affordability.
That being said, there are ways you can lower repair costs and avoid expensive landscaping tasks usually associated with pipe repair. The most affordable solution for you depends on where your pipe lies in your yard, its depth and the extent of damage. The following are five things you can do to save big on your home or property pipe repair.
1.) Find Alternatives to Invasive Pipe Replacement
Perhaps the best way you can save on your pipe repair costs is by reevaluating your options, and considering trenchless alternatives to dig-and-replace repairs, such as pipe lining. In many pipe repairs, the most expensive component is not the materials used, or even the labor required, but rather the remedial landscaping that follows. In traditional repairs, pipes that ran under driveways, sidewalks and other home fixtures would have to be dug out manually; repaving driveways following a repair could cost thousands in additional renovation cost.
Excavating damaged pipe lines is no longer necessary, as trenchless, cured-in-place pipe technologies mend pipes from within to create new pipe walls internally. Epoxy, resin-based liners, used in virtually all trenchless repair applications, make it possible for those dealing with damaged pipe to entirely avoid uprooting lawns and ruining paved surfaces. Going trenchless can help you save as much as 30% on pipe repair, compared to outdated, invasive dig-and-replace repairs.

2.) Consider Bursting Your Damaged Pipe
If your pipes have fully collapsed, to the extent that lining wouldn't be a sufficient solution, trenchless pipe bursting may be an affordable alternative to excavating the failed pipe. Using cone-shaped, steel bursting heads, trenchless experts can physically burst old pipe and lay replacement lines without the costly digging of traditional repair methods.
Pipe bursting can be completed in a matter of hours, and costs significantly less in labor and materials than trenching. Even for the most severe pipe damage, trenchless solutions exist that can help you see huge savings on your pipe replacement costs.
3.) Video Inspection to Evaluate the Extent of Damage
One of the most useful steps a person can take to save money on their pipe repairs is having a trained plumbing team perform video inspection on the damaged line in question. These inspections take minimal time, but can have a huge impact on your pipe repairs (and in turn, implications on cost).
Best of all, the video camera tools used in these inspections can typically be inserted through existing pipe entry points; there's no digging required to get a professional assessment of your broken pipes.
4.) Sectional Point Repair for Isolated Pipe Damage
Following pipe or sewer line video inspection, it may be discovered that damages to your pipes are isolated incidents, such as single-point root intrusions or cracking along critical joints. In these cases, fully relining the pipe wouldn't make sense, and would result in higher repair costs than necessary. This is where sectional point repair can help homeowners repair damaged pipes at a lower cost.
Using two small entry points, trenchless repair specialists can reline precise segments of pipe, as opposed to the entire line. This helps homeowners see significant savings on materials used, as well as labor. Sectional point repair is effective for virtually all pipe materials, including:
Clay pipe

Cement sewer line

Orangeburg pipe

Iron pipe

Steel pipe

PVC/plastic pipe
5.) Get a Professional Opinion

In some cases, such as when damaged pipe lines are located less than one or two feet below ground level, and do not run below sidewalks or driveways, a dig-and-replace repair may be the most efficient way to resolve pipe damage. It makes more sense to dig a foot of soil and manually replace pipes than to invest in pipe lining, which is more suitable for deep pipe lines, or those in close proximity to electric and other utility lines.
To determine what pipe repair solution would be most affordable in your situation, the first thing you should do is contact a pipe renovation specialist in your area. Professional inspection before pipe repair could help you save thousands, and avoid unnecessary digging and expensive landscaping problems.
Topics: Sectional Point Repair, Trenchless Technology, Pipe Lining, Lateral Lining, Pipe Leaks and Repair