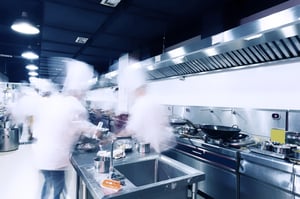 How are you unclogging your commercial pipes? Are you using chemical or homeopathic remedies, such as hot water or baking soda; or, are you using proactive measures to ensure your clogs remain clear and water flow is consistent.
There are many different methods to unclogging your residential drains which can also help to clear clogs from your commercial drains as well. However, there are some best practices you can implement for commercial drain cleanings in Sacramento.
How Do Commercial Drains Get Clogged
Knowing the root cause of how your drains clog is the first step to improving, unclogging and minimizing commercial drain buildup.
Commercial food or hospitality property drain clogs are often caused from acquiring an accumulation of debris, oils and other materials over time.
Common clogging agents in commercial properties include:
Cooking oils

Food waste (such as animal bone, fragments, starchy or overly-fibrous food products)

Soap

Paper based products

Chemical agents

Hair or nail clippings
Best Practices for Commercial Drain Cleanings
As you can see, there are many factors that can affect the condition of your commercial pipes. There are also many best practices you can implement for commercial drain cleanings.
#1 Hydro-jetting
One of the best practices you can use for cleaning, or unclogging, your commercial drains is hydro-jetting.
This method is completed by a professional plumber who will conduct an initial video inspection to determine the pipe's integrity.
From there, the professional plumber can properly locate the source of the clog and hydro-jet your drain through pressurized water accordingly.
# 2 DIY Remedies
If you are needing a quick, or more immediate fix, then you may benefit from some common do-it-yourself remedies, such as chemical agents or carbonated substances.
Chemical Agents
While chemical unclogging agents work great in a pinch and are designed to break down organic material, such as food debris, their fumes can be toxic and hazardous to your health.
If you do choose to use a chemical unclogging agent on your commercial drains, you should use it in small amounts. This is because of their corrosive nature and, if used in large quantities, you can create clogs or pipe erosion from the combination of foam, chemicals and pressurization.
Carbonated Substances
Other quick fixes for cleaning your commercial drain pipes include pouring hot water, baking soda and vinegar, or soda down the clogged drain. This can help to resolve minor clogs by dissolving debris buildup.
Avoiding Clogs
Instead of having to remedy your commercial drains from clogs, you can implement preventative measures to keep them clog free for the long term.
A few basic things you can begin doing consist of scheduling a licensed professional to go out once a year and conduct regular maintenance on your commercial drains; as an additional measure of caution, you can treat and self-inspect your commercial plumbing once per month.
Some other practices you can implement on a daily, monthly and annual basis to help prevent clogging your commercial drains include:
Daily
Avoid pouring oils and grease down your commercial drain

Running water when using the garbage disposal-- food can gather around the drain and attach to grease and oil creating clogs
Monthly
Conduct drain cleanings to keep water flow high with minimal debris buildup
Annually
Contact a professional to evaluate your pipe systems
Clogged drains that are creating commercial sewage backups need reliable, efficient and professional services. If your commercial drain needs some professional attention, contact an expert to clean your drains right the first time.
Topics: Plumbing in Sacramento, Commercial Plumbing, Drain Cleaning and Repair