Sacramento Sewer Line Replacement
If you are a contractor who recently landed that golden municipal rehab job but require the equipment and know how of experienced cipp professionals to help you turn around the work perfectly and on schedule, consider contacting us at Express Sewer & Drain.
We pride ourselves on helping sewer contractors like you raise the bar with every job they take on, ensuring that you secure future contracts. Your work is your business card, so you don't want to risk your reputation with a cut-rate company who only claims they know trenchless technology. At Express, we are trenchless technology. Not only can we help you with manhole-to-manhole sewer relining projects, big or small, we've recently acquired new Bowman cutters (6"-24") for precision lateral reinstatement. So if you find yourself spread a little thin or you just require extra manpower with the experience and knowledge about how to get the most out of state-of-the-art trenchless sewer line replacement in Sacramento, you can count on us here at Express Sewer & Drain.
Why Bowman Reinstatement Cutters?
Why do we use Bowman cutters at Express? Because we want only the best. We use them for the same reason we use only Perma-Liner trenchless technologies. We've been around the block (and under it), and due to our years of experience and being fortunate enough to test a variety of manufacturers products, we've concluded that Bowman cutters give us, and in turn, those with whom we contract, the best results. Period.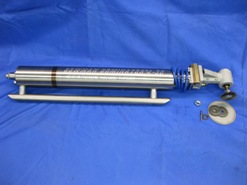 Bowman has been evolving their equipment now for over 25 years. Their goal, like ours, is perfection. It's a constant pursuit. When you team up with us at Express, you're not just teaming up with the finest staff of certified pros with decades of experience. You are teaming up with industry leaders that contractors successful – job after job after job.
Bowman cutters are site-specific tools that make each unique circumstance one that can be conquered quickly, and that fast turnaround time means glowing reviews and more work. And we all know what that means: more cash.
Municipal, county and state contracts are worth their weight in gold. They are not to be fouled up. You need tools and manpower that you can count on to come through no matter how challenging the job might be. And at Express, we love a challenge. It may sound funny, but we really are passionate about what we do. We're committed to helping contractors:
Provide the most efficient solutions
Provide the most durable solutions
Lend cities, counties and the state options to save taxpayer money
Forging forward with newer, greener and more sustainable solutions
And providing unbeatable, kick-ass service that nobody rivals.
For Top-Quality Trenchless Sewer Line Replacement With Uncompromising Quality, Express!
So, when you land that residential or commercial trenchless sewer line replacement contract in Sacramento or nearby areas, and you need the finest men, equipment and a pledge to surpass your expectations, Express is your only choice. Let us help you finish this job…and get more in the future. From Perma-Liner manhole-to-manhole lining and CUES van sewer TV to Bowman Dominator cutters, we're the guys you want sealing the deal.