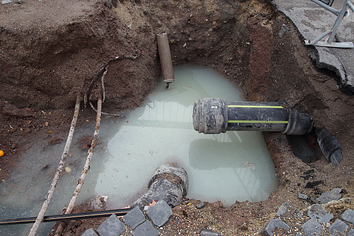 "Affordable" and "pipe repair" are two terms you may have never thought you'd see together; after all, what's so affordable about long hours of hard labor and digging up your lawn to replace home water pipes? However, with modern innovations to plumbing repair techniques, pipe repair can be made affordable under virtually any budget, t5hanks largely to what those in the industry call "trenchless."
Trenchless solutions make full pipe repair and even pipe replacement an inexpensive process, by avoiding unnecessary material and labor costs, and limiting lawn damage throughout the renovation process. If you're looking to repair your home's damaged, corroded or compromised plumbing pipes at an affordable rate, look no further than trenchless repair technologies.
Best of all, you don't even have to go out of your way to find trenchless specialists, who can fully repair your home's pipes in under a day; there are professionals in your local area who are ready to tend to all of your trenchless plumbing needs today. For the best trenchless repairs, always hire local. In the Sacramento area, you community trenchless experts are Express Sewer & Drain.
What Trenchless Can Do for You
When it comes to efficient pipe repairs and replacement, there are few more efficient and affordable techniques than those that trenchless provides. Through application of cured-in-place perma-liners and epoxy resins, specialists can essentially re-line your existing, damaged pipe sections with inexpensive ease. Not only do these repairs take a fraction of the time of traditional fixes to complete, but also require a similar fraction of the cost.
The resin liners and cured-in-place pipe solutions that trenchless techniques provide almost completely eliminate the need for digging, or "trenching" (the exception being small entry holes through which to apply the resins).
As these solutions can be implemented at the subterranean level, without extensive digging operations, overhead labor costs are drastically reduced, as well as the time it takes to complete repairs. With innovative trenchless technologies, you save at practically every level of pipe repair, from the materials used to the condition of your lawn following repairs.
Affordable trenchless options are more than just a simplified means of pipe repair, however; they are also incredibly versatile, and can remedy pipe damages of virtually any size, and from any number of causes. If any of the following have resulted in severe damage to your home's plumbing system, there's a good chance trenchless, cured-in-place pipes can be the right solution for you:
Shifting soil or ground movement
Intrusion from plant roots, rock fragments or underground animal activity
Faulty installation along critical joints
Cracking and fracturing with time or temperature
Corrosion and degradation
Aged, decaying pipe materials
Long Term Results for Sacramento Plumbing
Trenchless pipe repairs offer more than just savings in short term… they also generate savings down the line through the high quality, reliable materials used in their installation. Generally, homeowners in the Sacramento area can expect cured-in-place replacement pipe sections to work at their best efficiency for at least 50 years to come; that's decades of peace of mind you wouldn't have otherwise over your Sacramento plumbing system.
The resulting cured-in-place pipe sections and walls that trenchless technologies bring can handle the stress and strain of long-term use, and can actually improve water flow to and from your home (using a technique known as trenchless pipe bursting).
Whether plumbing systems in your area are particularly susceptible to underground soil activity or chemical corrosion, cured-in-place liner solutions can withstand the physical strains that other types of replacement pipe can't.
What makes trenchless so valuable is that these solutions are capable of such reliability at a fraction of the costs and installation times of other repair methods.
Your Neighborhood Trenchless Experts
If you decide to go trenchless with your home pipe repair, and take advantage of the significant labor and cost savings that are possible through this technology, it's important to find and hire a local trenchless repair service.
Local specialists in your area will understand the unique needs and behaviors of plumbing systems in your area, and can help you find the ideal trenchless solution for your home's plumbing needs.
The causes of common plumbing disasters change from community to community; Sacramento is no different. In an area particularly vulnerable to soil shifting, root infiltration, blockages and subsurface animal activity, it becomes absolutely essential to find a local Sacramento plumbing expert to see to your unique trenchless repair needs.
Topics: Trenchless Technology, Plumbing Tips, Inspection, How To, Preventative, Sacramento Plumbers and Pipe Repairs