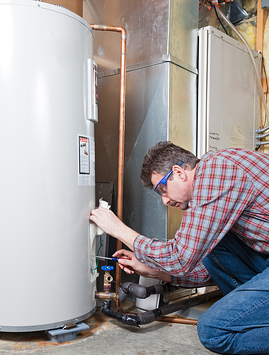 Whether you're dealing with something as simple as persistent water fixture leaking or a full-blown pipe collapse, there are some situations in which DIY plumbing repair efforts just don't cut it. If you've been confronted with a major plumbing issue that calls for professional expertise, it's important to keep in mind several key things you should look for that separate exceptional plumbing services from the sub-par.
In the event of a plumbing emergency, try to avoid letting immediate stressors cloud your judgment. Even for quick, immediate fixes, the decision over what company to hire can have just as great an effect on the quality of your repairs as the plumbing techniques used.
In this blog, we make finding the right plumbing specialist for your general plumbing or pipe repairs simple. When looking into your repair options, be sure to take into account all of the following traits concerning local plumbing companies.
Licensing and Insurance Contracts
Foremost, you should make sure that any plumbing companies you contact has a fully licensed and insured team of repair specialists. In California, plumbers and the companies they work for must be fully licensed to offer repair services; this licensing requires years of training and education, as well as a passing grade in the state plumbing qualification test, the California Plumbing (C-36) Exam. This exam ensures state plumbers excel in the following task areas, which are central to high quality, professional plumbing services:
Plumbing safety
Plumbing system remodeling
Plumbing installation
Plumbing system repair
Rough plumbing
Plumbing testing
Project planning
For your pipe repair needs, it's absolutely essential to find a service provider that is current on their licensing.
Additionally, make sure the plumbing experts you choose to hire are fully insured for liability and worker's compensation (standard policies should have a $500,000 protection minimum). If you hire an uninsured plumber to service your pipes, and they are injured on the job, the financial responsibility for those injuries would fall on you!
Don't be careless in a plumbing emergency; make sure you hire a fully insured and licensed plumbing specialist to tend to your plumbing repair needs.
Range of Plumbing Repair Options
In addition to licensing and insurance coverage, you should also consider the various plumbing services offered by potential plumbing repair specialist. Does your local plumber offer cured-in-place, trenchless pipe repair? What kind of video inspection technology do they have to evaluate damage to pipes or sewer lines? The following is a compiled list of services you should consider when hiring a professional plumbing company to restore your plumbing systems to peak performance. Some of these solutions are far more effective, affordable and safe than traditional repair methods:
Video sewer and drain inspection
Kitchen sink/faucet repair
Bathtub repair
Toilet repair
Drain cleaning and clog removal
Pipe bursting
Cured-in-place pipe lining
Hydro-jetting
Sewer relining
Line and utility locating
Commercial and residential plumbing
Hot water hearer repair/installation
Realty services
Manhole-to-manhole lining
Lateral reinstatement
Sectional point repair
The best plumbing repair companies come equipped with an arsenal of more than just plumbing tools, but also of innovative plumbing solutions themselves. Finding a local plumber who offers today's high-grade plumbing solutions can wind up saving you thousands on pipe repair needs for your home.
Affordability of Repairs Offered
If your plumbing situation has become dire enough to require a professional plumbing company, be sure to hire an honest team of experts, committed to providing the most practical, affordable pipe and drain solutions for your circumstances. Many plumbers out there will offer price-inflated services and require high hourly labor fees for a simple drain cleaning.
The best plumbing companies don't earn their workers' wages capitalizing on your home's plumbing misfortunes; rather, they earn their local recognition with excellent, long lasting repair results. Find a plumbing company committed to providing you the highest quality, most practical plumbing solutions. Minor clogging issues shouldn't require drain pipe replacement, just as most underground pipe cracks do not require full excavation to repair.
What separates the best plumbing companies from sub-par alternatives is their ability to identify and recommend the right solutions for your specific plumbing situation. In Sacramento, that company is Express Sewer & Drain; our plumbing experts are highly trained in providing efficient, low cost solutions for a broad range of plumbing issues, from a leaking toilet to a collapsed pipe.
If you think the time has come to contact a plumbing company in your area, and leave repair tasks to the plumbing experts who will work with quality and affordability in mind, contact us right away.
Topics: Plumbing in Sacramento, Commercial Plumbing, Home Plumbing