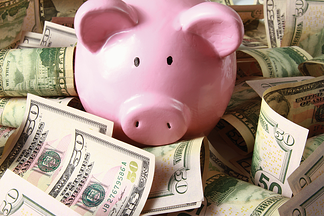 It should come as no surprise that dealing with broken, fractured or intruded sewer pipes can put a noticeable dent in your wallet. In these cases, however, you also can't go on with a broken sewer pipe; you've got to get it fixed one way or another. What is the most affordable pipe repair solution for broken sewer lines?
Conventional dig-and-replace pipe repair can cost as much as $250 per foot of excavated pipe depending on the depth, and this is without factoring various other expenses involved in replacing damaged pipe, including:
Remedial landscaping costs

Property damage, such as displaced concrete and excavated driveways

Labor and overhead fees

New pipe segments
At the end of the day, traditional sewer replacement can cost you as much as $20,000, and often more. If you find yourself wondering why a simpler, more affordable solutions doesn't exist yet, we've got some news for you.
Savings in Practicality: Trenchless Technology
In a majority of circumstances, the most practical and affordable pipe repair solution is a process called trenchless pipe lining. In these repairs, plumbing experts will physically coat the inside walls of your damaged pipes with liquid epoxy, and cure it in-place using inflatable air bladders (hence the industry term, "cured-in-place pipe").
For these repairs, a sizeable majority of what you're paying for is the raw materials required: the actual epoxy-resin solution used to coat your damaged pipe walls. Other than materials, you'll only be paying for the installation labor involved in trenchless repairs; as the entire trenchless pipe lining process can be typically completed in a single day, this cost is significantly lower than fees for comparable dig-and-replace labor.
The biggest savings of trenchless pipe repair concern risk avoidance. With cured-in-place pipe repairs, you'll never have to worry how much later landscaping tasks or property repairs will cost you.
For owners of older properties, such as those with sewer lines or lateral pipes over 40 years old, collapse may be imminent; this is especially true for homes with Orangeburg pipe systems in place. It's better to know your options for emergency pipe repairs before collapse or damage occurs in the first place.
Trenchless pipe lining offers assurance for low cost pipe repair, no matter what types of pipes are involved, where they are on your property or how deep underground they connect to municipal sewer systems.
The Bottom Line Costs of Trenchless Lining
Let's get right down to business with trenchless technology: how much the repairs cost, and what circumstantial factors may affect your total bill at the end of the day. In California, it's estimated that trenchless repairs techniques, such as pipe lining or bursting, can cost as much as 25-30% less than dig-and-replace pipe renovations.
While the actual materials and equipment used in these repairs will require some initial investment, homeowners can avoid the costly landscaping, traffic disruption and long labor hours of traditional pipe repair. In many cases, avoiding extraneous repair costs via trenchless techniques is well worth the investment.
All things considered, that same $20,000 conventional repair we mentioned earlier in this blog could be completed for a reasonable $11,000-12,000 with trenchless pipe lining; this includes everything involved in the repair process, including labor, materials and installation. For smaller applications, lining could cost as little as $3,000-4,000. With trenchless technologies, the biggest factor in cost is mitigated risk.
The following are all factors that can affect the cost of your trenchless lining application:
The length of pipe being restored

Pipe depth

The extent of damage

Exact pipe technique used (generally trenchless pipe bursting will cost more than pipe lining)

Pipe location on your property
It should also be noted that trenchless pipe repairs are not practical 100% of the time. For homeowners with relatively shallow pipe lines (most pipes less than one foot underground), or with pipe lines close in proximity to other utilities (electrical wiring, cables, etc.), techniques such as pipe bursting are impractical, and can end up costing more than simply digging out the damaged pipe.
As the best solution for sewer pipe repair often changes on a case-by-case basis, one of the most important steps you can take is contacting a trenchless sewer company in your area, who can evaluate your situation and identify the right fit for your pipe repair need.
Topics: Trenchless Technology, Pipe Lining, Commercial Plumbing, Pipe Leaks and Repair