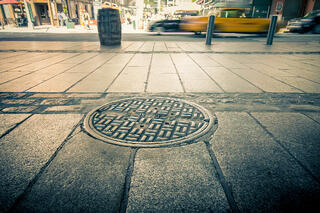 Hydro-jetting: just what does it entail, and how effective is it as a professional water line cleaning application? The practice has become the debris-clearing norm throughout the United States, and for good reason.
The best way to explain hydro-jetting in layman's terms is actually quite simple: it's essentially power-washing for your dirty, clogged or corroded pipes. With pressures as high as 60,000 PSI, hydro-jetting washers are used to dislodge and remove a wide variety of debris in home, municipal and commercial water lines alike. Various hydro-jetting PSI levels can be set to help pipe cleaning pros in a range of tasks, including:
Standard pipe cleaning

Surface preparation for application of pipe liners, or other repair materials

Removing residual oils, sediment or corroded materials
Hydro-Jetting in Residential, Municipal and Commercial Applications
For residential purposes, professional hydro-jetting can be very effective at clearing silt, build up over time and dirt from within pipe lines. In some cases, hydro-jetting serves as a viable alternative to manual pipe repair; non-invasive and a fraction of the price, hydro-jetting provides a residential pipe cleaning alternative few homeowners can pass up.
If you've been stuck in a loop of detecting clogs and snaking them out of your drain pipes, jetting may be just what you need to remove debris from your pipes for good.
When it comes to dirt, corrosion and build up within city sewer lines, non-invasive hydro-jetting is often the most affordable cleaning option available. With PSI levels in the tens of thousands, hydro-jetting clears municipal sewer line debris far more effectively than snaking, and at a lower price tag than other methods.
One of hydro-jetting's biggest advantages, however, is that it's entirely chemical-free, and causes zero damage to inner pipe walls. It's not only effective for cleaning pipes, but also 100% safe for all types of pipe line, including:
Cement sewer lines

Steel pipe

Cast iron pipe

Orangeburg pipe lines

Existing PVC or resin-based pipe lines

Clay pipe
In commercial cleaning applications, hydro-jetting has become somewhat of a norm in regular plumbing upkeep, particularly for food and beverage industries. As byproduct clogging and build up is much more prevalent in these industries than in others, hydro-jetting is often conducted as part of regular plumbing maintenance.
Pipe and drain snaking helps remove large clogs within pipe lines, but does little to clear residual materials from pipe walls; jetting, on the other hand, removes this excess material with ease, in a single application.
Hydro-Jetting's Role in Remedial Pipe Maintenance
In almost any case where pipe lining, sectional point repair or manhole-to-manhole repairs are involved, hydro-jetting serves as an essential first step. Lining material can't be applied if there is residual debris coating the inside of your pipe or sewer walls. Whether it's municipal sewer lining or home lateral repair, hydro-jetting is almost always the first thing trenches experts must do in restorations.
Hydro-jetting is an effective cleaning application for pipes as thin as 1 1/2" in diameter, to wider sewer lines as large as 4' in diameter. While hydro-jetting is an essential early step in pipe lining, perhaps it's most effective as a preventative care application. Removing clogs thoroughly with jetting early on can help homeowners and commercial property owners alike avoid a myriad of costly pipe issues.
Letting minor clogs or pipe debris issues continue on can result in all out pipe failures in short time. Proactive hydro-jetting, in this case, can resolve minor plumbing problems before they spiral out of control, and result in all-out plumbing failures.
Topics: Trenchless Technology, Pipe Lining, Hydro Jetting, Drain Cleaning and Repair