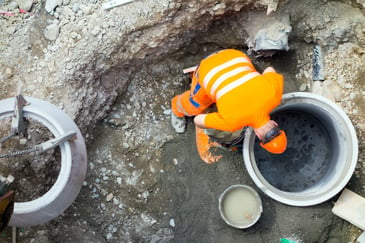 From overflowing sinks to standing water in your shower, clogged drains can quickly become a nightmare for homeowners. Do-it-yourself methods often suggest chemical solutions or using a plunger to remove residue buildup. By the time you see the clump of hair, slime, and dirt that comes out of the drain, you'll wish that you had gone to an expert plumber instead.
Professional plumbers may use a larger, more intense tool to snake a clogged drain. However, in more severe cases, this isn't necessarily the most ideal approach because it can risk the integrity of the pipeline. Instead, turn to Express Sewer & Drain for effective hydro-jetting methods that will keep your pipes free of debris.

What is Hydro-Jetting?
Express Sewer & Drain suggests hydro-jetting as your first approach to clearing pipe line clogs. Hydro-jetting can empty pipelines of various sizes without risking any disruption or backflow. This method utilizes a hose of highly pressurized water that is inserted into a pipe. The strength of the water helps free blockages while cleaning the interior of the pipe, resuming the normal flow of water through the sewer line.
There are numerous ways for your pipelines and drains to develop buildup. For drain cleaning and repair, it's essential to use the best method that will clear the problem and provide long-lasting solutions, as opposed to relying on DIY short-term fixes like snaking a drain.
What Is Snaking a Drain?
Do-it-yourself methods are everywhere. They're marketed as budget and user friendly solutions for normal household problems and provide a quick fix for you and your family. But the problem with DIY solutions is that they're rarely just a quick fix. Snaking a drain involves inserting a long flexible cable and cranking it through a drain to hook onto the blockage and then pull it back out for removal.
Whether you try to snake a drain yourself or hire a professional to do it for you, the problem will only be fixed temporarily. Snaking a drain doesn't thoroughly clean the interior of the pipe, meaning that there will likely be residue left behind. Remaining hair and grime can build up more quickly, so you'll wind up with the same problem all over again pretty soon.
Additionally, snaking a drain is more likely to produce damages. Scratches and cracks within the pipes can grow into bigger problems, which will require more invasive repairs or replacement of the whole system.
Hydro-Jetting Applications for Sacramento County
There are three applications of hydro-jetting clogged drains that prove more valuable and cost-effective than simply snaking the drain: residential, commercial, and municipal. Even though its process varies, the basic concept remains the same, using concentrated pressure to blast water through sewer and drain pipes, breaking away any blockages from inside your pipelines.
Residential
The common clogs you are likely to encounter at your home are within your sinks, tubs, and toilets. Clogged drains in these areas can be troubling and embarrassing. Some of the most common clogging agents in residential areas are:
Hair buildup
Grease blockages
Food waste buildup
Commercial
Plumbing and pipe blockages at your Sacramento office or business do not make for an ideal start to the day. Hydro-jetting for commercial pipes is essentially power washing for your plumbing. Instead of digging the pipeline out of the ground, the hose is inserted from above to blast away any clogging agents.
This form of hydro-jetting is ideal for businesses in food, beverage, or hospitality industries and is powerful enough to unclog food oil, cooking waste, or fibrous and expandable food materials that like to stick to the interior of your pipes.
Municipal
Municipal sewers in Sacramento County are subject to pipeline buildups and backups too. Clearing these pipelines can cause a combination of stress and expensive charges. These lines are often exposed to more elements and buildup than residential and commercial pipes. The more materials, corrosive elements, or debris that have built up in a municipal sewer make the removal process that much harder.
Municipal hydro-jetting removes any interior blockages by using highly pressurized, concentrated air to blast water through the corroded, clogged, or damaged pipeline. Since hydro-jetting is a trenchlss technology, it is a dig-free job, which is a great way to unclog municipal drains because it eliminates disruptions of any traffic during the jetting process.
3 Things to Know About Hydro-Jetting in Sacramento, CA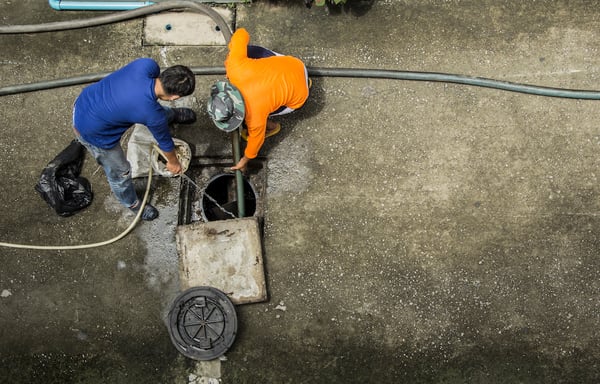 Traditional drain cleaning methods just won't cut it with intense blockages, so hydro-jetting is one of the best solutions for both home and business owners. While you might understand the key differences between hydro-jetting and snaking a drain, there are some frequently asked questions that come up regarding cost, damage, and longevity.
Low Cost
Forbes reported in 2022 that residential hydro-jetting services cost an average of $700. Commercial hydro-jetting is typically three times more expensive than residential services, sitting at an average of $2,100 to clear a clogged sewer line.
In comparison, Forbes reports that snaking a drain can cost an average of $500 to $800 for main line solutions. While this initial cost is lower than hydro-jetting, you'll likely require this service more frequently, thus paying more for pipe cleaning services overtime.
Damage Free
Many homeowners fear that resolving a clogged pipe requires intrusive action, but this is not the case. You won't need a whole bathroom renovation to fix an overflowing tub, and you also won't need to dig your pipes out of your lawn. Hydro-jetting is a form of trenchless technology that won't cause damage to your pipes or your property.
Long-Lasting
Hydro-jetting doesn't just flush out residue buildup; it also deep cleans your pipes. Regular flushing of your pipes with hydro-jetting services will help with overall maintenance and extend the lifespan of your pipes.
Unlike hydro-jetting, snaking a drain will only remove particles without cleaning the interior. With remnants of the blockage still in the pipes, your system will likely clog up again soon.
Keep Your Pipes Flowing with Local Sacramento Plumbers
There are many things that can sneak into your pipelines and drains causing clogs or damages to your piping. To preserve your pipelines and avoid any pesky clogs, you should schedule routine maintenance for them. Hydro-jetting quickly resolves the problem and prevents future damage.
If you are experiencing any issues, be sure to consult with a professional right away. Contact Express Sewer & Drain for expert plumbing services in the greater Sacramento area! We are happy to discuss consultations and find the right solution for your clogged drains.
Topics: Plumbing in Sacramento, Trenchless Technology, Hydro Jetting, Drain Cleaning and Repair