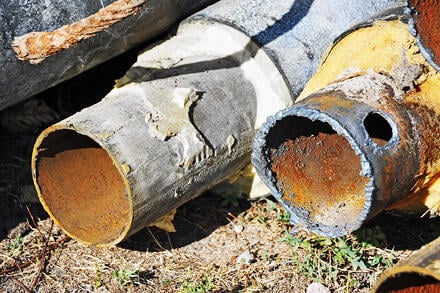 Most often, we here at Express Sewer & Drain find that Sacramento homeowners are skeptical about innovative, new solutions due to a lack of information; simply, they don't know enough about trenchless technology to truly understand and take advantage of these solutions, and instead settle for other, more expensive and property damaging solutions.
In reality, trenchless pipe and sewer repairs are one of the most lucrative ways homeowners are saving money on their private plumbing maintenance. In this blog post, we'll take a deeper look into why trenchless solutions can save homeowners hundreds in both the short- and long-term, as well as some unknown benefits of trenchless technologies you may have never even considered before.
The Source of Savings
Much of the mystery about innovative trenchless pipe repairs revolves around how these solutions generate the huge financial savings they do. Yes, these solutions save homeowners great sums with their home pipe repair, but how? The answer is simple: trenchless sewer and pipe line repairs are the most efficient plumbing restorations available, and can be done in a fraction of the time of traditional pipe repairs.
The efficiency of trenchless pipe solutions is a direct result of the various technologies used in these techniques. Cured-in-place pipe, bursting heads, pressurized air bladders and video inspection snaking tools all contribute to the speed of trenchless repairs; repairs that can be fully completed in a matter of hours, compared to the strenuous, multiple-day process of traditional repairs.
Trenching repairs, the traditional digging solutions for pipe damage, require full excavation of damaged pipes, and can cost homeowners dearly with high labor and overhead costs. With trenchless technologies, this simply isn't an issue; damaged pipes can be completely repaired without ever having to physically remove them.
This is due to the subterranean installation of cured-in-place pipe (CIPP), which comes as a liquid in its initial form. Using air pressure and small entry/exit points, trenchless experts solidify this liquid within a damaged pipe's walls, essentially forming an impenetrable, durable plastic coating; this CIPP coating will easily hold for over 50 years, with the potential to perform as a full replacement pipe much longer.
A majority of the savings generated by trenchless repair solutions comes from the elimination of lengthy, unnecessary labor and post-repair landscaping. Traditional, trenching solutions tear apart lawns, and very often require extensive lawn renovations just to restore properties to acceptable shape. With trenchless, cured-in-place pipe solutions, expensive trenching techniques can become a thing of the past.
Perhaps best of all, these solutions deliver high quality results. One concern over trenchless, cured-in-place pipe repairs is that the final coating will not be nearly as sturdy, or even safe, as pipe made of other materials. However, to the surprise of many Sacramento homeowners we speak with, this is simply not the case; in fact, cured-in-place pipe repair sections are guaranteed to hold against environmental elements and corrosion for well over 50 years, providing you peace of mind for decades to come.
When considering trenchless technologies for your pipe and sewer repair needs, it's important to keep in mind that time is of the essence, and that the sooner you act, the more successful a trenchless repair solution is like to be.
If you think trenchless technologies may be the right solutions for you (which they almost always will be), contact your local trenchless professionals for a consultation. These experts can use innovative video inspection tools to determine the precise extent of damage to your sewer line, and inform you of the best possible course of action to repair those damages.
A Solution for Any Application
One of the best things about innovative, trenchless sewer repair solutions is that the technologies involved can be used to repair virtually any kind of pipe damage, in any kind of plumbing system. Whether your pipes are part of a municipal, commercial or privately owned sewer system, trenchless technologies can fully repair (or even replace) performance-affecting damages.
Trenchless professionals using cured-in-place pipe and pipe bursting techniques to tend to pipe damages can renovate any damages to your pipe, no matter the type, extent or source. This includes:
Damage and natural deterioration from age
Chemical corrosion
Soil movement and ground movement (especially a concern in Sacramento properties)
Root and plant intrusion
Cracking along faulty joints, and other fragmentation
Loose joints and leaks resulting from poor installation
Regarding the actual type of pipes in your plumbing and sewer systems, the limits are much the same: trenchless repair technologies are effective with any type of pipe, from copper and concrete to cast iron and Orangeburg. Trenchless technologies are truly a universally applicable solution to sewer damage; no matter your unique situation, damages and needs, trenchless solutions can fully resolve your plumbing disasters (and help you avoid future ones!).
To learn more about the great benefits of trenchless repair technologies, or for more information on how the cured-in-place pipe installation process works, contact Express Sewer & Drain today.
Topics: Trenchless Technology