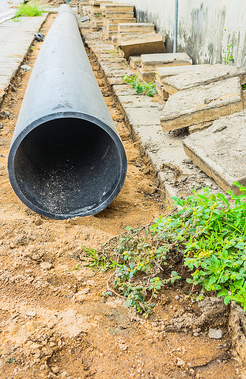 Resolving and moving on from a subterranean pipe failure or collapse can be a hassle, especially if you don't know where to turn for the best repairs available. How do I know what repair option will fully resolve the problem? More importantly, how do I find these repairs in an affordable, yet practical way?
For underground water line, lateral pipe and sewer pipe repairs, there are no end-all, be-all solutions. There are various means for resolving pipe damage and corrosion, each of which is particularly suited for specific circumstances, such as type of pipe affected and the extent of damage. These include:
Lateral pipe relining
Pipe bursting
Lateral reinstatement
Manhole-to-manhole lining
Sectional point repair
These repairs are classified as, what we refer to in the industry, "trenchless technology", since they do not require invasive digging (trenching) or long hours of unnecessary labor. In fact, most trenchless repairs can be fully completed in a single day.
What is Sectional Point Repair, and When Is It Practical?
Of these various trenchless options is sectional point repair, which is the ideal, cured-in-place pipe repair solution for damages contained to a fixed area, such as isolated intrusions, cracking or corrosion. Sectional point repair is also ideal for resolving problems caused by poor pipe installation, such as costly leaking or stress along critical pipe joints.
You can typically decide whether or not sectional point repair is right for you following a quick video inspection, during which professional pipe repair technicians will use existing entry ways or contained access points to assess your pipe condition with video camera tools. In this inspection, specialists can determine the exact cause of pipe damage, as well as the most practical repair method in your unique situation.
If it's determined that problems with your pipe system, such as plant intrusion, cracking, poorly installed joints or corrosion, are contained within a localized area, there's a good chance sectional point repair can be the right solution for you. For sectional point repairs, specialists can use the same innovative, cured-in-place pipe technology as full lateral lining, in an isolated area.
Since you won't need to reline or reinforce your entire pipe line, you can save hundreds on repair and material costs; there's no need to reline your entire pipe if damages are contained to a small area.
The Sectional Repair Process
In these repairs, trenchless specialists will use small, noninvasive entry points to reline affected pipe areas with epoxy resin solutions, which form a tight, single-bodied seal over compromised pipe sections in a few short hours of curing time. By applying these liners internally, and curing them in-place with pressurized air bladders, trenchless experts can restore broken pipe sections in a single sitting, all without costly landscaping tasks or high overhead labor costs.
The epoxy, Perma-liner solutions used in sectional point repair cure and form in-place, creating a tight, long-lasting seal against local/isolated pipe damage. For these repairs (and other trenchless solutions), it doesn't even matter what kind of pipes you have in your home plumbing system. Trenchless solutions, such as sectional point repair, are ideal for all pipes, including:
Aged, deteriorating Orangeburg pipe
Previously installed PVC/plastic pipes
Clay pipe
Steel or cast iron pipe lines
Concrete sewer pipes
In many cases, trenchless specialists performing sectional point repairs on your plumbing lines will not even have to create their own entry points. Using existing drain openings, runoffs and pipe entrances, repair technicians can often tend to damaged pipe sections and cure in-place all new pipe walls without digging at all.
This cuts the entire repair process down to as little as two hours, and at a fraction of the cost of manual, excavation repairs. There's no need to tear apart your lawn or damage your yard and home to reach affected pipe lines, especially for isolated, contained damages. Sectional point repairs make single-instance pipe repairs simple and practical.
Sectional point repairs are the easiest, most affordable repair means for homeowners (and even municipal city planners) to deal with localized pipe damages in their plumbing systems. In many repair circumstances, there's little need to reline entire pipe sections, or apply trenchless resin liners when damages are contained within a small area of pipe. Sectional point repair makes it easy to tend to these types of damages in a practical way, in applications where full pipe lining would be unnecessary.
If you are experiencing pipe problems or damages similar to those listed in this blog, consider contacting trenchless professionals in your area today.