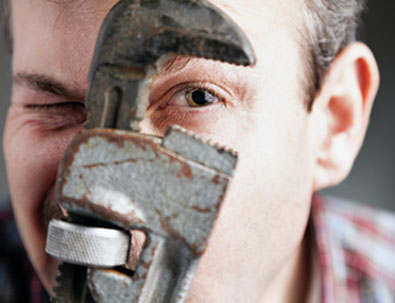 Sacramento can be a great place to settle down and raise a family. There are many homes both new and old that can accommodate a family of nearly any size and budget.
However, before you settle on a home in Sacramento (or any other city, for that matter), be sure to thoroughly inspect the plumbing of the building first!
Why You NEED to Check a Home's Plumbing
There are many reasons to inspect the plumbing of a home prior to purchase, including:
1: To Verify Plumbing Pipe Age
Unless you're buying a brand-new home that was just constructed, it can be hard to tell how old the plumbing is at a glance. Just because there are shiny new faucets and fixtures on the exposed pipes doesn't mean that all of the plumbing pipe throughout the house are equally new.
Any kind of plumbing pipe has a limit to its useful life—no matter how rugged and durable that pipe may be. If you don't inspect your new home's plumbing pipe beforehand, you'll never know for sure if you're pipe have decades of life left or if they're going to fall apart just a few months after you move in.
2: To Check Pipe Integrity
Another reason to have a plumbing inspection done on a new home's pipes is to make sure that all the pipes are properly joined and have no major flaws. Even in new construction homes, it's important to inspect the pipes for leaks and other problems before you sign for it, let alone move in.
Mishandled installations, earthquakes, and other issues can cause leaks even in brand-new pipes.
3: For the Negotiating Value
Having all the information you can is always good when you're trying to negotiate with a real estate agent or homeowner—especially in sales where the building is being sold "as-is."
For example, if you know the plumbing has problems that will cost $5,000 to fix, then you can have the homeowner/real estate agent either fix the problem for you or deduct those costs from the price of the home.
4: To Identify and Fix Problems Early
If there is a problem with the plumbing in a house, fixing it early can save you a lot of time, trouble, and money later on.
Leaks in water or wastewater pipes can cause a number of unpleasant problems, such as mold growth, pest infestations, and worse. The faster you can find and fix a problem, the smaller it will generally be.
Finding and fixing a problem before you move in is vastly preferable to waiting to discover it months after getting your family and all your belongings in the building.
Need a Preliminary Home Plumbing Inspection?
If you're getting ready to purchase a new home, and need a thorough plumbing inspection you can trust, contact an experienced
Sacramento plumber right away. A quick inspection now could save you from a costly mistake later.
Topics: Realty Services, Plumbing in Sacramento, Video Sewer Inspection, Home Plumbing, Sewers, New Homeowners