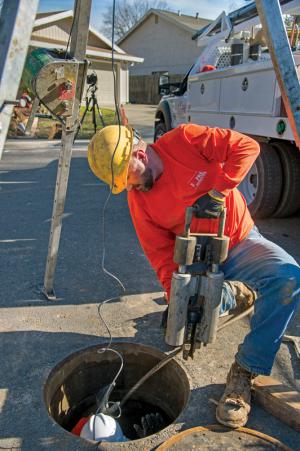 Featured in Dig Different Magazine, the success story of Express Sewer and Drain demonstrates that filling a need in the community has big benefits for all.
With a devotion to customer service and an eye toward the latest technology, William Heinselman saw a need in Rancho Cordova, Sacramento, and surrounding counties and started Express Sewer and Drain in 2007. His dislike for those who don't show up for a job helped him build his business as a company that would, and who goes beyond, to get it done.
Express Sewer and Drain Featured in Dig Different Magazine
In the beginning of this venture, Mr. Heinselman had to depend on subcontractors to dig trenches, for trenched sewer line work and trenchless technology that is used for sewer line repair and replacing. As the company grew, they purchased the equipment necessary for trenched and trenchless sewer, and no longer needed to depend on the whims of a sub-contractor to get a project completed.
With the investment in modern trenchless technology, as well as the digging equipment necessary for trench digging, Express Sewer and Drain has become the go-to, sub-contractor for other plumbers in Sacramento.
Trenchless Technology offers Fast Solutions
The people at Dig Different Magazine understand the benefits of trenchless technology and this recognition is highlighted in the Express Sewer article. Mr. Heinselman saw early in his business the benefits of trenchless technology and paired with the unreliable nature of sub-contractors begin adding a piece of equipment at a time.
The company now commands the use of about $4 million worth of equipment that is dedicated to lateral reinstatement, pipelining, conventional excavation, and water line replacement. Trenchless technology offers sewer line, replacement solutions that are less intrusive to homeowners, and municipalities of Rancho Cordova, Sacramento and other cities in the area.
Many homes, businesses, and municipalities have Orangeburg and other inferior and undersized sewer lines that have been replaced by Express Sewer and Drain. These lines run from homes, businesses, and municipal buildings and when they fail, immediate attention is required to clean up the potential mess.
One of the pieces of equipment, by TRIC Tools, uses pipe-bursting technology to replace older 4-inch drainpipes, with 6-inch sewer lines that offer better drainage. This method of sewer line replacement is less mess than open trenches and the seamless pipe that's laid has a life expectancy as long as – or longer than –conventional sewer line materials.
Going Above and Beyond at Express Sewer and Drain
Trenchless technology has been one of the driving forces behind Express Sewer and Drain's success but other innovations have helped, too. Mr. Heinselman had the same problem with contractors that he needed to asphalt parking lots and clean drain lines. He acquired the necessary equipment to do both and kept, even more, work in-house which has given him a lot of control over each job. Every time you add another team to a project, the overall quality of the project can suffer if not everyone is on the same page.
By reducing the need for sub-contractors for trenching, trenchless technology, pipe-bursting, pull-in-place water lines, and other plumbing innovations, Mr. Heinselman has been able to maintain a higher quality of work for his customers. Having all of the necessary tools, under one roof, also helps expedite jobs when you have a need for a sewer line replacement or repair.
Dig Different Magazine Gives Accolades to Express Sewer
The willingness to innovate and entrepreneurial nature of William Heinselman has been given high praise by Dig Different Magazine. As you can see, Express Sewer and Drain is not just another plumbing company. We're a company that offers the best service to the residents, business, and municipalities of Sacramento and are dedicated to repairing your drains and water lines, as quickly and efficiently as possible with the most modern technologies available.
Having a faulty sewer line is bad enough and when you need to put the health and well-being of your family and customers, first, you need a plumber who has the equipment and trained personnel to get the job done quickly, at a competitive price. At Express Sewer and Drain, we've demonstrated that efficiency is part of our business philosophy so a call to us will get your sewers flowing freely as quickly as possible.
Topics: Plumbing in Sacramento, Trenchless Technology, Sewers