Information Provided to You By Your Trusty Worthy Plumbers in Sacramento, Express Sewer and Drain
Clogged drains happen to the best of us. When you do encounter a clog, it may be time to clean your drain trap. Drain traps can easily become congested with food and hair and other debris, and it is essential that you routinely clean the traps to prevent damage to your plumbing system. The most professional and reliable plumbers in Sacramento, Express Sewer and Drain urge regular drain maintenance to ensure your pipes are always running smoothly, and you never have drain stoppage.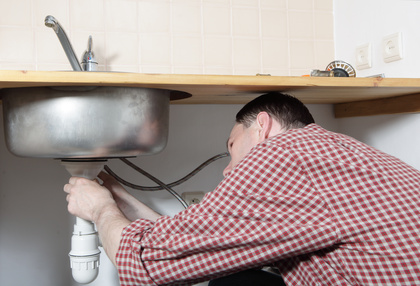 What is a Drain Trap? Your Knowledgeable Plumbers in Sacramento, Express Sewer and Drain, Give You The Scoop
A drain trap or p-trap as it is most commonly called, is the u-shaped trap between your plumbing and drain that prevents the harmful gasses from moving back up through your pipes into your kitchen. It also catches debris, hair, dirt and other sludge from coming through your pipe system.
This is the also the trap that supplies a place for small objects to rest before they descend deep into the plumbing system. Have you ever dropped a ring down the sink? The drain trap is what you would remove and take apart to find the ring. Plumbers in Sacramento have had many calls of frantic customers who have lost a piece of jewelry down the drain, and are eager for us to retrieve it!
Removing and Cleaning Out the Drain Trap- Plumbers in Sacramento Say: "You Can Do It Yourself"
Depending on the number of individuals that use a certain sink, it is recommended that the drain trap be cleaned at least four times per year according to plumbers. Sacramento residents with a large family, with six or more who use the same sink, should clean the drain trap out once a month to prevent severe clogs.
Removing and cleaning out the drain trap is a very easy process that you can do by yourself. If you do not feel comfortable performing the process, trusted and reliable plumbers in Sacramento, Express Sewer and Drain will be glad to do the job. With a highly skilled plumbing team well-versed in drain cleaning, we will clear your drain of any obstruction.
To begin, clear out all items from under the sink, and place a bucket under the trap to collect debris. Using pliers, loosen the slip nuts located on the sides of the drain trap. Once they are loosened, unscrew and remove them.
NOTE: As you are loosening the drain trap, water and sludge that has been trapped will flow out. Let this water and the debris buildup run into the bucket.
After all the water and debris has run out of the trap, remove it and clean it with a wire brush. Next, wash it with hot water to eliminate any greasy material. Once trap is clean, fit the trap into its location, slide the slip nuts into place, and tighten both sides with pliers.
Finally, switch on the faucet to assure that there is no leaking. If there is leaking, check to see if the slip nuts are latched correctly. Now, turn on the faucet again and see if the water flows properly.
Still having problems with a clogged drain? Then call the plumbers in Sacramento who are the number one source for drain cleaning, Express Sewer and Drain. Express Sewer uses all of the most innovative and top of the line tools to make sure that your drain is clear, and the job is done right. If you want a committed, experienced plumbing team, who will always do a professional job, call Express Sewer and Drain today!