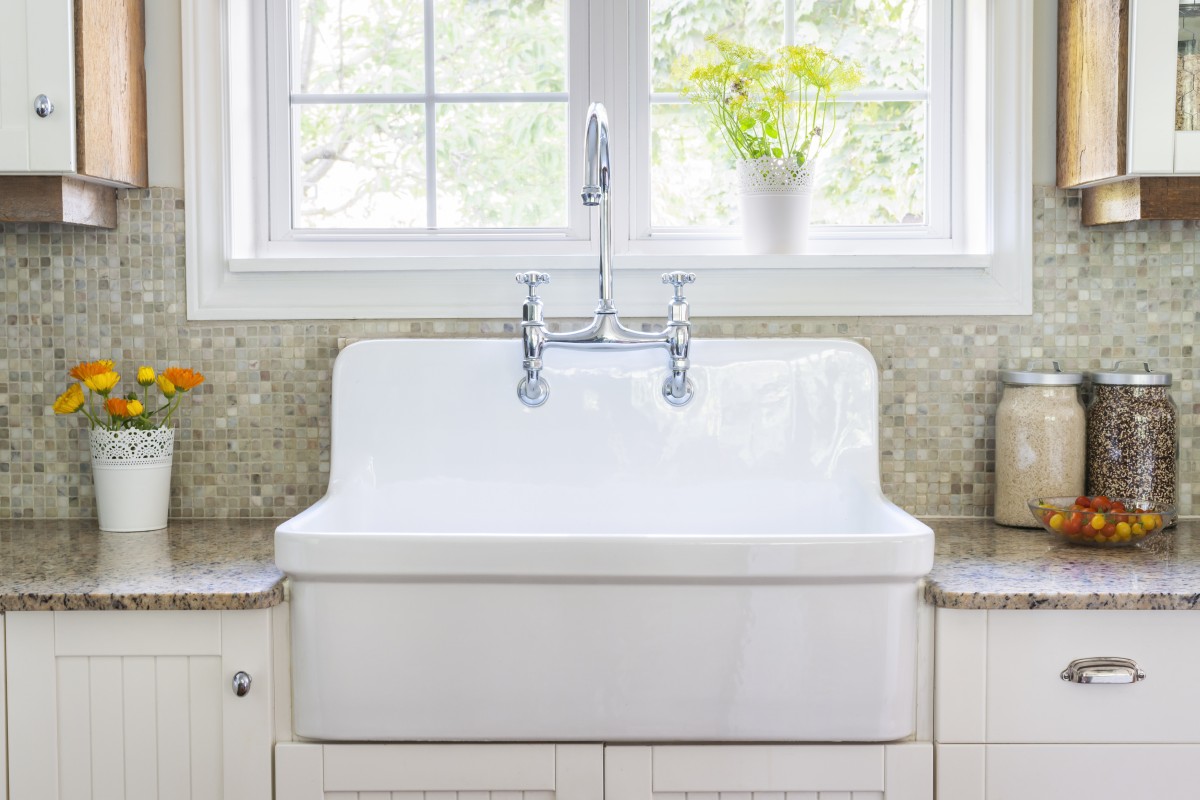 There are many things to consider when choosing a new kitchen sink! Size, type, and installation all must be considered when selecting the perfect sink for your kitchen. But, shopping for kitchen sinks shouldn't be overwhelming! Use these kitchen sink tips when you're considering buying a new appliance for your Sacramento home!
Why Choosing the Right Kitchen Sink Matters
Let's face it: Your kitchen activities will likely revolve around your sink. Whether you're prepping food, cooking, cleaning, or essentially involving anything with water, your sink will be involved. Choosing the right kitchen sink for your space and lifestyle will help your kitchen area be as functional as possible.
When determining the best sink options, you'll first need to consider the size of the sink, as well as sink materials, and the number of sinks you want in your kitchen area. Before shopping for kitchen sinks, it's important to keep these options in mind.
What Size Sink is Right For Your Kitchen?
First things first, it's important to determine the size of the sink you want. The majority of current kitchen sink models are available in between 22 to 30 inches in width per bowl and 8 inches deep. If you prefer a larger sink, you can purchase bowls that are 10 inches deep. When making your decision, it's important to think of what you will mainly be using the sink for. For example, if you do a lot of cooking, a deeper sink will provide you more room and may be a better choice.
Kitchen Sink Options
Number of Sinks
A traditional kitchen sink is comprised of two bowls. However, there is currently a wider variety of bowls available. You can now buy single bowls, one and a half bowls, double, and even triple bowls! When choosing the type of sink bowl, you need to consider the kind of activities you will be performing in the kitchen, and how much room you will need.
For those with limited space in the kitchen, single bowl sinks are perfect. Double bowls are great for those who do a small amount of cooking and preparation work. When there is more than one cook in the kitchen, and a lot of cooking is performed, a triple bowl sink is the best choice.
Kitchen Sink Materials
There are numerous kitchen sink materials to choose one; while some may be more appealing than others, the best kitchen sink material for you will be determined by the function of your sink. While some materials are better for high usage and resistant to stains and scratches, others are more delicate and are suited for less utilitarian uses.
The most common kitchen sink materials are made from stainless steel, solid surfaces, enamel-coated cast iron, and composites. The material of the surface counters also matters when choosing a kitchen sink. If you have a solid surface countertop, such as granite, then a stainless steel sink may be a wise choice due to its undermount capabilities.
Stainless steel is often a good choice if you will be using your kitchen sink often for cooking and cleaning since it's a highly durable material. However, it's not as attractive as other options such as copper, which additionally has anti-microbial properties (& a much higher price tag). Fireclay is also becoming a popular material; a type of enamel modeled from clay and glazed, these sinks can be stunning, but are also heavy and require professional installation.
Composite sinks, made with a polyester/acrylic mixture, are an affordable option for many homeowners and can come in a variety of colors for easier interior decorating. They are not as resistant to wear and tear, however, as traditional metal options.
Types of Kitchen Sink Faucets
Every sink needs a faucet. There are plenty of attractive designs on the market to fit every style of kitchen. While personal taste does matter, it's important to pick a faucet that will be functional.
The most long-lasting and durable faucets have ceramic disk valves or are made of solid brass. Faucets also come in single or double handles. Though this comes down to preference, some convenient extras include a hot water dispenser, garbage disposal, and pull-out faucets to make washing pots and pans easier.
In the end, the faucet you'll choose will depend on your budget and use. For instance, while hands-free faucets that operate with motion sensors may be attractive, they are more expensive than traditional options and may not be useful for heavy-duty cleaning.
Proper Kitchen Sink Installation
When selecting a new kitchen sink, you must also consider the type and installation. This is an extremely important decision because certain types of sinks don't fit with specific types of countertops, and other sinks require special installation by a plumber. Express plumbers can provide customers with their expert options on what they need to know when choosing the best type of sink for their kitchen.
Top-mount sinks have easy installation and are reasonably inexpensive. Their only negative is that, because the sink is on top of the counter, dirt can get under the rim causing bacteria growth. Difficult to install and expensive, undermount sinks do supply a more seamless appearance than top-mount sinks. This is because they are installed underneath the countertop. Under-mount sinks are also much easier to clean.
Additionally, farmhouse, or apron front sinks, are composed of one large bowl with a front panel. These types of sinks are typically installed in country-style or cabin kitchens.
Whatever choice you make, Express Sewer & Drain can execute the installation process. With an outstanding, dedicated team of Sacramento plumbers and at unbeatable prices, you can't go wrong with Express Sewer & Drain. Contact us today!
Topics: Plumbing in Sacramento, Home Plumbing, Kitchen Sink