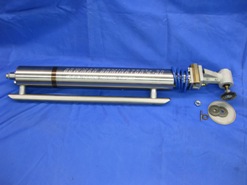 Pipelines wear and tear over time. Sometimes it is due to normal use, other times weather wears it down, such as extra or not enough water. Other times, a tree root may disrupt the line of the pipe. In any case, pipelines do not last forever, and your pipeline may be in need of a fix. If your first thought is the safety of your lawn, then there is no need to worry. There are plenty of trenchless technologies for your piping system that will not tear up your lawn. Minimal holes may be dug, and each system is different. Lateral reinstatement cutting is a form of trenchless technology. But what is it?
CIPP Piping
CIPP piping stands for cured-in-place piping. This type of piping is one of many ways to instill trenchless rehabilitation in already existing pipelines. There are no joints or seams, and it is cured with a pipe inside of the existing pipe, giving it double the protection. CIPP rehabilitating applies to water, sewer, gas, or chemical pipelines.
CIPP lining begins with a polyester tube saturated in resin. It is pulled into the damaged pipe, and is thus more environmentally friendly than digging and completely replacing a pipe. This means less intrusion to the surroundings, and less manpower to make a completely new pipe. The resin is cured with steam to become tight-fitting and without joints itself. Additional seals to the lateral connection are needed in the future for maintenance. This is where the lateral reinstatement comes in.
Lateral Reinstatement
Any CIPP pipe line will need lateral reinstatement eventually. Lateral reinstatement is like a bicycle kickstand; the pipe is still working but the lateral reinstatement gives it balance. A CIPP liner must first be installed, with open lateral sewer connections to help restore services to its previous quality. The lateral reinstatement thus restores services to lateral connections.
Bowman Cutters
Bowman cutters, also called Dominator cutters, are the highest quality tools at the lowest price. We use them as part of our toolbox to keep costs down while raising the quality of our work. There is no external air tube, so the cutter is easy to maneuver due to its streamlined design. For more information, call us today for a consultation.
Other Trenchless Technologies We Offer
We offer not only lateral lining and reinstatement, but also sectional point repair, which is the reparation of a section of a broken pipe. We can locate the break and fix it. Our repairs can last half of a lifetime! We also offer pipe bursting, which is the act of breaking the original pipe as the new pipe slides through continuously. Manhold-to-manhole lining is lining that can be done through the manholes. Our service is efficient and thorough, and we are prepared to fix any pipe, even water line replacement.
Call Us Today
Like we said before, our service is efficient and thorough. Our immediate response is all day, every day, so call any time you need us. We can evaluate your pipes and maintain them before anything major occurs. We can help save you both time and money while fixing the pipe that you need fixed. Our technologies are environmentally friendly and quick so it will not cut into your time to use water. We even offer drain cleaning, hydro-jetting, and basic plumbing services. Our experienced professionals are always prepared with their tools and expertise. For more information on trenchless technologies or any of our other services, do not hesitate to contact us today.
Topics: Lateral Reinstaement Cutting, Lining, Trenchless Technology