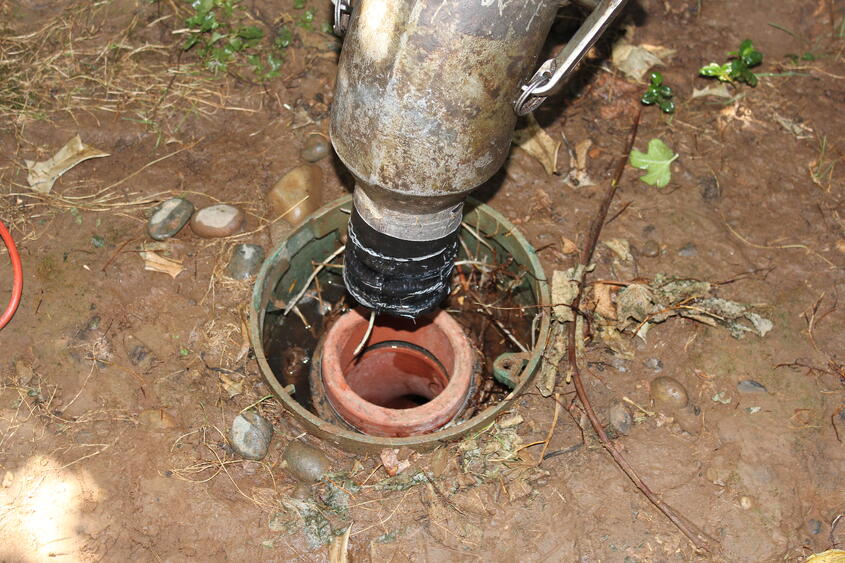 Businesses that are located on commercial property in Sacramento and its surrounding areas need plumbing services that are effective and fast. It's a huge deterrent to a quality establishment to have sewage flowing across the floor. For businesses that handle food, fines and business closures can easily result from clogged pipes. While prevention is the best measure one can take when maintaining a commercial property, sometimes unexpected repairs must be made.
Traditional vs. Trenchless Sewer Pipe Repairs
Commercial pipe repairs using older technologies can cause a serious disruption to your business and often require the destruction of sections of flooring, pavement or concrete, and/or landscaping. The cost of the pipe repair, along with repair of any associated damage, will add to your final repair bill. Although trenchless plumbing pipe repair may have a higher initial cost than traditional methods, secondary costs are minimal because repairing your commercial pipes will only require one or two insertion points.
How Trenchless Technology Works
Many commercial plumbing systems in Sacramento have clean out ports built into them. If your pipes don't, then a small hole will need to be dug to gain access to the sewer pipe when using a trenchless repair method. This will allow the plumbing technician to clear the blockage and have access to the pipe to repair it. There may be situations where traditional trenching is required to make commercial pipe repairs, but most trenchless pipe repair jobs will not require open trenching.
Trenchless technologies for pipe repair and replacement include several methods to repair your pipes. One system is called cured-in-place pipe (CIPP) liner, which pushes or pulls a big cloth sock that fits inside the existing pipe and is filled with resin once placed. The resin sets in a few hours, forming a hard, seamless section of sewer pipe. With a life cycle in excess of 50 years, your repairs will be something you may never need to worry about again.
Pipe bursting is another trenchless technology that places new piping simultaneously as it blasts away the damaged pipe. This method of sewer line repair, for certain commercial applications, is another of the services offered at Express Sewer & Drain that can help you keep your property free of plumbing problems.
Preventative Measures for Commercial Pipes
The newest plumbing technologies provide solutions to clear and repair your pipes to keep them flowing freely. Preventative maintenance is the key to a system that operates without failing. A failing system can add stress to your life that can be avoided by using technologies designed to examine, determine damage, and repair the sewer pipes of your commercial property. Systems used for pipe examination and maintenance are Express's pipe and sewer line video inspection, grease trap clean-out, and hydro jetting.
Using closed-circuit TV, plumbing technicians run a specially-designed camera down the pipes of your property. This allows them to see the condition of the sewer pipe, enabling them to pinpoint locations that need repair or just a cleaning. Cleaning your pipes can be accomplished using our commercial hydro-jetting equipment.
Hydro-jetting is a pressure wash system that uses a specially-designed wash head that blasts accumulated build-up from the inner walls of the pipes, such as paper, hair, grease, and other substances. This accumulation of muck can damage pipes over time, especially if the property is one that has pipes made from cast iron, Orangeburg, or older PVC pipes.
Food service establishments in Sacramento must be equipped with grease traps. Designed to separate greasy sink and drain water from municipal sewer systems, grease traps require maintenance at least annually — more often if you have a busy eatery. A clogged grease trap can bring your business to a screeching halt. Preventative maintenance will keep yours flowing freely.
Express Commercial Plumbing Services in Sacramento
One of our satisfied customers has this to say about our service:
We are looking for excellent customer service with good communication and reporting, as well as competitive pricing. We have enjoyed working with Express on several of our projects and look forward to hearing from you soon.
Our customers have learned from experience that our prices are competitive in Sacramento and Davis, and they appreciate our attention to their plumbing issues. Let us help you prevent unforeseen work stoppages due to faulty sewer pipes with an inspection of your sewer system. Contact Express Sewer & Drain today to get started. We will help you get them in good working order and keep them flowing freely all year long.
Topics: Trenchless Technology, Commercial Plumbing