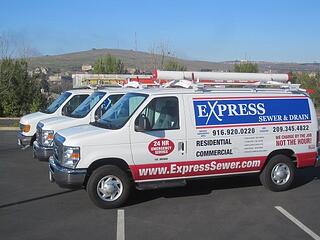 Two staples that most households have stored under or next to their kitchen and bathroom sinks are a plunger and some formulated drain unclogging agent.
When the water in your toilet is filling up the bowl faster than your eyes can keep up, that plunger comes to the rescue. Maybe there is a stagnant puddle of water residing in your kitchen or bathroom sink and the drain could benefit from some unclogging agents that would restore the drains function back to new in the blink of an eye.
But, what happens when you come home after work to the sound of drip-drop beneath your kitchen sink's pipe? The use of a plunger or unclogging agent probably isn't the best fix for the large puddle you found; for these more demanding plumbing problems, you should utilize a professsional plumbing contractor.
When to call in the Pro's
Like most everything, there is a time and a place- having a busted pipeline that is relentlessly leaking water and running up your water bill expenses would be an excellent time to utilize plumbing contractors.
Generally, when a repair calls for more than the basic household staples previously mentioned, you would benefit from utilizing a professional.
Areas of Expertise
Sacramento plumbing company Express Sewer & Drain aims to repair plumbing problems using the most efficient and cutting edge technologies available. They are the leaders in trenchless technologies and use it whenever and wherever it can be deemed beneficial.
Utilizing contracted plumbers help minimize waste and conduct a more efficient plumbing repair process. General areas that they serve are in residential plumbing, commercial plumbing and municipal plumbing.
Residential Plumbing
From drain cleaning to pipe repair, Express serves all your residential plumbing needs using optimal, affordable, and safe energy efficient solutions. Specifically, they are able to repair and service general plumbing needs, water heaters, leaks, sewer repair, and toilet repair. Part of their repairing process uses free video inspections to help pin-point the exactness of the problem for an optimal solution.
Commercial Plumbing
What if there is drain buildup in your commercial sinks and pipes? Express is about educating their customers to prevent commercial clogs from happening and offer their services to returning your commercial plumbing back to normal. They offer common commercial drain buildup causes, such as cooking oil, food waste, soap and the list goes on. You can find out more on the causes of commercial drain build up and preventative measures you can take to avoid such buildups here.
Municipal Plumbing
Plumbing problems extend past the pipelines encompassed in the internal walls of a building. They can extend to the property itself and the frustration of these clogs and leaks can rapidly become a burden. By performing commercial hydro-jetting and through routine maintenance, Express can help keep these pipes flowing.
Will you utilize a Sacramento Plumber?
Some plumbing problems can be solved with household staples such as a plunger or liquid unclogging agents. But for more serious plumbing problems, utilizing a contracted plumber- such as Express Sewer and Drain- would be the better option to receive a proper, professional, trusted, tried and true plumbing repair.
Topics: General Plumbing in Sacramento, Sacramento plumbers, Plumbing Contractors