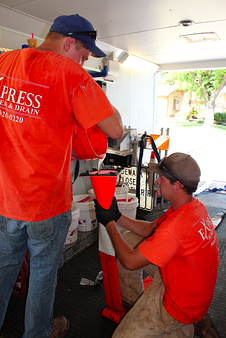 You've probably heard it said a time or two that everything has a time and place-- the same is true for which plumbing repair method used on your sewage system. Trenchless technologies are a game changer in the plumbing world.
However, traditional mending still proves effective in the right environment and may be more beneficial depending on the circumstance.
When Traditional Plumbing Repair is Ideal
Ideally, trenchless technologies make sense when the damaged pipe is deep beneath the ground's surface. The logic behind trenchless technology is based on convenience.
So if your damaged piping is near the ground's surface, and located away from the hustle and bustle, then traditional repair or replacement methods would mend just the same; if you were to use trenchless technologies in this circumstance, you would be negating the purpose of trenchless sewer repair.
Cost Ratio
Trenchless technology costs compliment it's convenience factor; your sewage system can be repaired with less digging and labor than traditional excavation methods. However, because of these conveniences, its cost can run parallel to the base price of an excavation repair.
So, if your damaged pipe line is close to the ground's surface, it may prove more cost-effective for a traditional repair than a trenchless one.
It's Situational
Trenchless sewer repair uses your existing damaged pipe to repair it. For example, pipe bursting, a trenchless technology, won't be effective if a portion of your pipe is collapsed. Soil is also likely to shift over time which can cause your pipe to sag or bend; this would also make trenchless technologies the lesser choice for pipe repair or replacement.
Why You Would Use Trenchless Technologies for Repair
Trenchless sewer repair is the more efficient solution for damaged sewage system repairs because it is the dig-free, cost-effective and environmentally friendly alternative for traditional pipe line repairs.
Trenchless or Traditional?
Everything has a time and a place-- and your plumbing solution isn't any different. Choosing between traditional or trenchless repair both has their own pro's and con's.
Just remember that if your damaged pipe is close to the ground's surface and away from busy streets and locations, then traditional repair or replace methods may be better to use; however, if you will have to excavate and interrupt traffic and routines, then, trenchless technologies are likely your best bet depending on the condition of the damaged pipe.
Contact a professional who is a leader in both trenchless and traditional plumbing techniques to help you determine which method would be best for your damaged sewage system.
Topics: Trenchless Technology, trenchless sewer repair, Expert plumbing, Trenchless Plumbing Sacramento, Trenchless Plumbing